Market Eye
Provides end-users and TPI's access to live market prices for a wide range of UK gas and electricity traded markets.
Watch a free demo

How it works
Market Eye's screen shows key traded periods for UK Gas and Electricity, giving your team a view of the latest market prices, so they can secure the best prices for their energy. Where there is no traded price for a particular period, Market Eye will display implied prices.
You can also view and export up to two years of market trend history through Market Eye, which can help support procurement discussions with clients.
Market Eye now provides Day Ahead insights as well as Months, Quarters and Seasons.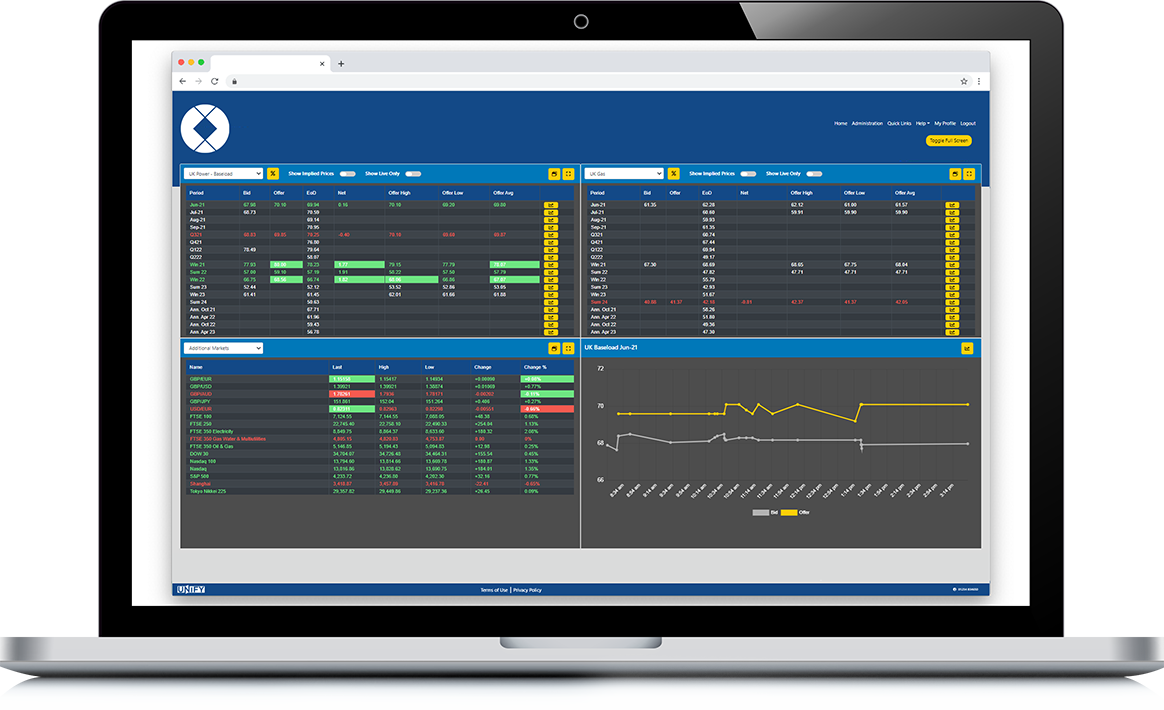 What are the benefits?

Access to live market prices*
So you can update internal stakeholders or customers with up-to-date market prices and mitigate re-tendering

Optimise your income
If market prices fall while your client is deciding whether it's the right contract for them, the level of commission you receive could increase

Competitive pricing
Our solution is a cost-effective way to enhance your services without the need to purchase licences for your own trading screens

Increased credibility
With market prices and trend reports at their fingertips, your team can improve their insight into the market and boost credibility with your customers

Greater negotiating power
With a clear view of market prices, you'll have greater negotiating power with suppliers, so you can get the best prices for you or your customers

Easy to access
Our cloud-based screens can be accessed from anywhere you can access the internet, so your team can view prices whether they're in the office or working remotely
*The prices quoted are the bid and offer at which SystemsLink would be prepared to transact, being reasonably reflective of the market at that point in time.

Discover the benefits of Market Eye today
Our experts are happy to give you a free demonstration of Market Eye to highlight all of the benefits it could bring to your business.
Arrange a demo
Market Report Service
Take your insight further with our Market Report service. Industry leading Daily & Weekly Market reports, which can also be fully white labelled for distribution within your company or to your customers. Give your brand a boost with SystemsLink Market Insight reports.
Find Out More